More Potent Technology for Anti-Microbial Display Surfaces
You are here
In the midst of a global pandemic, many people are concerned with how to keep their interface with the digital world free of microbes and viruses. Touch screen displays have become the dominant user interface method. While glass screens are much easier to keep clean and sterile than keyboards, we need to remember to do that cleaning, or do we? Technology gives us the capability to embed sterilizing agents right into the glass itself.
Primarily driven by the mobile phone industry, the use of chemically strengthened glass as the front surface of displays, the cover lens, has become widespread. By immersing the glass in a heated solution containing potassium ions, sodium ions close to the glass surface are replaced by larger potassium ions. The stress this creates makes the glass surface much more resistant to scratches, and scratches are precursors to breakage.
A similar process can be used to infuse silver ions into the surface of the glass. Silver has well-studied properties as an anti-microbial agent. The presence of silver ions enables oxidization, which destroys the outer layers of the microbe. Such silver infused glass has been used as the outer layer, or cover lens, on displays used in medical applications.
Newer technology can now deliver glass for cover lenses with silver and copper infused into the glass surface. Copper has been used for its sterilizing capabilities for centuries. Its atomic structure, with a single electron in its outer shell, makes copper an excellent conductor. That same single electron makes it a potent oxidizing agent, able to destroy micro-organisms. Several hospitals are experimenting with using copper on everything from beds to doorknobs because of the dramatic improvement in hospital-acquired infections.
Note that these ions are baked into the glass structure, making them highly resistant to wear and abuse. The oxidizing reaction that damages micro-organisms leaves these beneficial ions in place. These are long-lived protective coatings. Their effect is also not susceptible to the genetic drift that causes antibiotic organisms to evolve.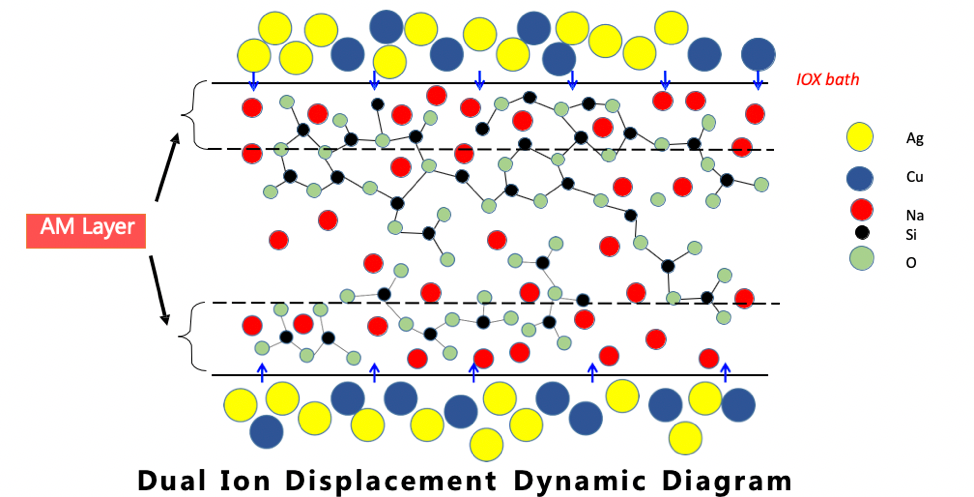 The beneficial properties of copper have been shown to extend to viruses. 
Copper has beneficial properties that extend to viruses. Research shows that it affects the Influenza virus, and it is also effective against MERS and Swine Flu, both Coronaviruses in the same family as COVID-19.
This glass treatment has been tested against many bacteria; however, it has not been tested yet against viruses. In particular, it has not been tested against the COVID-19 virus. Such testing can only be done in a highly secure lab, and such labs are in high demand right now. However, there is considerable data on the beneficial effect of copper ions on similar viruses. (ref 1, 3)
We have already tested this surface against Aspergillus Niger ATCC 6275, Aspergillus terreus AS 3.3935, Paracoccus fabri AS 3.4253, Penicillium sp. AS 3.3875, A. aureus AS 3.3984, Spherical Shell AS 3.4254), Colorectal Bacillus ATCC 8739, Staphylococcus aureus ATCC 6538P. We expect to run tests on viruses in the near future.
Meanwhile, this Anti-Microbial glass is available as a cover lens option on our Engineered Display Solutions. We can replace mechanical buttons with capacitive touch sensors outside the display area for increased reliability and a microbe-free experience. We can also supply it as a screen protector layer on top of an existing display. Contact us at sales@USMicroProducts.com to discuss your application.
Touch control of Electronic systems is both convenient and ubiquitous. This technology can make it part of protecting our health.
References
US Micro on Twitter
Follow Us on Social Media
Contact Us
North America HQ
6207 Bee Caves Rd., Ste 330
Austin, TX 78746
Tel: (512) 385 9000
Fax: (512) 385 9002